Andreas Hellkvist – Finally!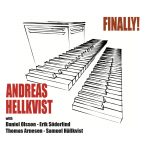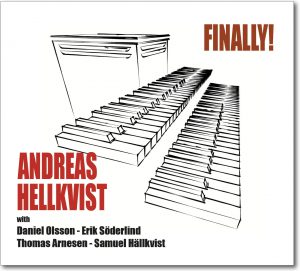 Release date
May 27th 2016
Producer:
Andreas Hellkvist & Daniel Lantz
Recorded at
Musikrum-1, Uppsala, Sweden
Recording engineer
Janne Jutila
Label
Do Music Records
Photo
Palli Kristmundsson
Musicians
Andreas Hellkvist
Hammond B3 (all tracks),
Fender Rhodes (4)
Daniel Olsson
Drums (all tracks)
Erik Söderlind
guitar (1,2,3)
Samuel Hällkvist
guitar (5,6,7)
Thomas Arnesen
guitar (9,10,11)
Reviews (mostly Swedish)
Orkesterjournalen: orkesterjournalen.com/wordpress/?p=10323
Okey magazine (DE): andreashellkvist.com/wp-content/uploads/2016/06/Rec-OKEY.pdf
Dalademokraten: andreashellkvist.com/wp-content/uploads/2016/06/DD_160527.jpg
Folkbladet: www.folkbladet.se/kultur-noje/en-rundtur-i-jazzens-varld-om4383189.aspx
DigJazz: www.digjazz.se/Diggat.SvenskJazz2016.html#Andreas
Norran: norran.se/noje-kultur/musik/andreas-hellkvists-nya-skiva-finally-ger-hopp-for-en-bortglomd-jazzgenre-603031
UNT: unt.se/kultur-noje/skivor/andras-hellkvist-med-forsta-soloplattan-4250248.aspx
Kulturdelen: www.kulturdelen.com/2016/07/15/cd-finally-med-andreas-hellkvist
Lira: http://www.lira.se/skivrecension/finally/
Rootsy (just a listing): www.rootsy.nu/bastiar.php?id=11
Order your copy
You can also get it here
Finally! is available in different ways at a number of web sites. Here are a few of them:
CDBaby: https://www.cdbaby.com/cd/andreashellkvist
Bandcamp: https://andreashellkvist.bandcamp.com/releases
Spotify: https://open.spotify.com/album/3TT6zjywHYYEdanrRgAvrO
OKEY: http://shop.mautnermedien.de/tontraeger/cds/jazzorgel-bluesorgel/23/andreas-hellkvist-finally?c=14
About the musicians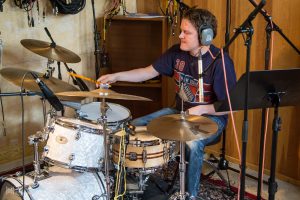 Daniel Olsson
Daniel has always been one of my favorite drummers and we have played together in different groups for about 15 years. When I was planning the record, the first thing I knew was that I wanted him to be the drummer. For the mix of beat and swing that comprises the album I knew that be would be the perfect fit.
Because of the record, we've been playing much more than usually and that's really fun. Also, as a side project we've started to play as a duo, where most of the songs from the album fit nicely.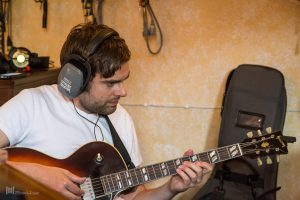 Erik Söderlind
Erik has for some years been the rising star of Swedish jazz guitar, ever increasing his fame and reputation, and by many considered to be among the best that Sweden has to offer. He recently released his third solo album and is continuously praised by critics and audience.
I got to know him some years ago, but before the recording of the album we actually hadn't played any gig together. When it comes to "classic" jazz guitar there's no one I'd rather have on my album, so I'm very glad he accepted my invitation.
Check out his website as well: eriksoderlind.com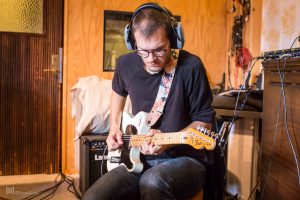 Samuel Hällkvist
Samuel grew up not too far from my hometown and we got to know each other at the local jazz venue. We did our first gig together in the summer of 1998, and since then we've played together now and then. Though, we moved to live quite far from one another so it has unfortunately not been that often.
You might notice that our last names are quite similar. In fact, in Swedish they are pronounced the same while spelled differently. To my knowledge, though, we are not related in any way.
I have always admired his musicality, his imaginative ability and pure technical skills. Stylisticly it's sometimes hard to define what he does, and that's what I like. He is just his own, and I think he brings really a unique quality to the songs where he plays. So I'm really thrilled to have him on the record!
Do check out his other stuff as well!
Samuel's website: samuelhallkvist.com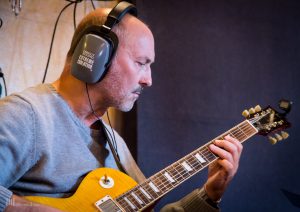 Thomas Arnesen
For more than four decades, Thomas has been an established guitar player in a variety of settings, touring and recording with different artists, bands and his own projects. As he says himself, it's the blues that is his favorite music, and it is as a blues guitarist that I know him best.
I first heard him with Kjell Öhman Organ Grinders, which were among the first records I listened to when I began to play the organ. About 14 years ago he asked me to join a blues band he was starting, and this was the beginning of a great musical cooperation and friendship. Arnesen Bluesband is still playing and I'm very happy about that. After 14 years he can still surprise and amaze me and just blow me away!
I wanted Thomas to be on the record to add his touch to some of the songs. I knew that the songs would be right up his alley and he really brought it!
Check out Arnesen Bluesband as well: arnesenbluesband.se
Andreas Hellkvist – Finally!
Release date 05/27/2016
Band Andreas Hellkvist Trio, Arnesen-Hellkvist Experience, and Apan & Grisen
Musicians