Last week I went on a short tour to the south of Sweden with Arnesen Bluesband and Claes Janson. This band is really one of the "cornerstones" of my musical life and we always have a blast playing together. Saturday night in Karlshamn was no exception and maybe even more to that. I put out a little clip from my solo on "Got my mojo working that a think captures the mood of the night.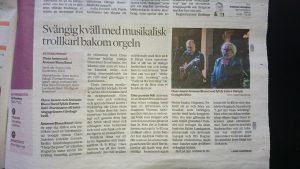 The review in the local paper was also very nice, with the headline "A swinging night with a musical wizard at the organ".
Anyway, hope to see you at some gig soon!
Last year I got to know Kiralina Salandy, a canadian singer living in Stockholm. She started a band called Funk Ups and this has been one of the most fun new projects in a while! Hope to be working a lot with this band. Below is a video from a lounge concert at Globen, Stockholm earlier this year, just to give you an idea of what it's about. Stay tuned!
And 2017 is coming to an end. It has been a fun year in many ways. A few new projects has started 2017 and I'm very eager too keep working on them in 2018.
I ended this year by going on a short trip to Pennsylvania to try out an organ I found on ebay. Here's a short video from that. Hope you'll enjoy it. And with that I just want to wish you all a Happy New Year!
The last couple of months have been really busy there there's a lot och fun things happening! Last week we played two gigs with my trio, and I put together a short video clips from one of my favorite songs combinning some different camera angles. Enjoy!
It's been a fun summer! Though it's not over yet, I think one of the things I will remember will be the concert on Monday July 31st, at Atelje Y, in Stora Skedvi, a village not too far from where I grew up. The venute itself is an old cinema for silent movies and has in recent years been turned into an arts studio and concert hall. And it is truly a beautiful place, inspiring in many different ways. And we had a lot of fun playing!
Here you can read more about the trio:
andreashellkvist.com/projects/trio/
Here's a video compilation from the concert. About one minute from each song. Enjoy!
Here are some videos from last year's birthday concert, one from each concert of the night. They are, in order from buttom up: Trinity playing my song Memories of lost love, A tribute to Kjell Öhman playing I'm walking and at the top, me Thomas Arnesen and Daniel Olsson playing the ending of Up and away. Enjoy!
Last year I did a few concerts with Norweigan blues singer and guitarist Hans Bollandsås. One of them was at Trondheim's jazz festival, on this date, May 8th. Recently I found this clip from this concert. A fun memory!
Two years ago I was contacted by Elliot Elliot to record one of his songs for his upcoming album. The recording was made in June the same year in a Stockholm studio. Me on Hammond B3 and drum legend Morgan Ågren on drums. However, it wasn't until last Thursday that the album was released.
You listen to the whole album here:
open.spotify.com/album/4JvejZfymYyd4uYbMPKW7o
The recording was also filmed and the video is now available on Youtube. So take a look and enjoy!

Finally! is now available on Spotify and other digital distribution services. If out haven't done so yet, check it out!