In the beginning of July there was the premiere tour of Kiralina trio. A spinoff of Funkups, but with more Gospel in the repertoire. We did 4 concerts on the beautiful island of Gotland, and here's a compilation from the second. I used my A100 with two Leslies, one 142 and one 142P. Loved the sound! More information about the trio here.
Enjoy the video!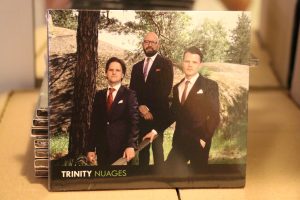 Last week we released out 4th Trinity album! It is named "Nuages", after one of the songs on the album. It also contains other beloved standards, as well as some of our own songs. one of the latter is my composition "Philosophical Sunday Walk". Another one of my favorites is Skylark, to which I made a thorough reharmonization. The last song of the CD is the Swedish pop song "Himlen är oskyldigt blå", in a more gospel like version.
It's always a genuine pleasure to play and record with this group and I feel blessed that we've been able to keep it together for almost 15 years.
You can already listen to the CD on Spotify
But if you have the opporunity, come see us play and get a physical copy as well!
Boheme will be revived for a few gigs this summer so I thought it would be nice to dig up some old material to make a compilation video. This is from a concert in 2015. Enjoy!
I love doing compilation videos, picking the best parts of a concert and put them together. Short and sweet! Here's the latest, with Hans Bollandsås from Borlänge House of Blues on May 9th this year. It think it really captures the spirit of this group. We're aiming to a lot more gigging and recording so stay tuned! And if you would be interested in booking us, don't hesitate to contact me!
Read more about the group here: andreashellkvist.com/hans-andreas-in-concert
Last week I went on a short tour to the south of Sweden with Arnesen Bluesband and Claes Janson. This band is really one of the "cornerstones" of my musical life and we always have a blast playing together. Saturday night in Karlshamn was no exception and maybe even more to that. I put out a little clip from my solo on "Got my mojo working that a think captures the mood of the night.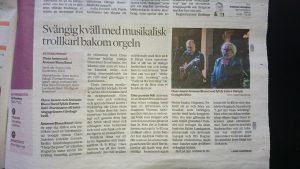 The review in the local paper was also very nice, with the headline "A swinging night with a musical wizard at the organ".
Anyway, hope to see you at some gig soon!
Last year I got to know Kiralina Salandy, a canadian singer living in Stockholm. She started a band called Funk Ups and this has been one of the most fun new projects in a while! Hope to be working a lot with this band. Below is a video from a lounge concert at Globen, Stockholm earlier this year, just to give you an idea of what it's about. Stay tuned!
And 2017 is coming to an end. It has been a fun year in many ways. A few new projects has started 2017 and I'm very eager too keep working on them in 2018.
I ended this year by going on a short trip to Pennsylvania to try out an organ I found on ebay. Here's a short video from that. Hope you'll enjoy it. And with that I just want to wish you all a Happy New Year!
The last couple of months have been really busy there there's a lot och fun things happening! Last week we played two gigs with my trio, and I put together a short video clips from one of my favorite songs combinning some different camera angles. Enjoy!
It's been a fun summer! Though it's not over yet, I think one of the things I will remember will be the concert on Monday July 31st, at Atelje Y, in Stora Skedvi, a village not too far from where I grew up. The venute itself is an old cinema for silent movies and has in recent years been turned into an arts studio and concert hall. And it is truly a beautiful place, inspiring in many different ways. And we had a lot of fun playing!
Here you can read more about the trio:
andreashellkvist.com/projects/trio/
Here's a video compilation from the concert. About one minute from each song. Enjoy!