Hammond Advent Calendar, Dec 18th – Norwegian song
Welcome to episode 18 of the Hellkvist Hammond advent calendar!
Three years ago, in 2019, I went up to Trondheim, Norway to do a few Christmas concerts with my friends Hans Bollandsås and Helene Misund. It was fun to play some Norweigian songs, both Christmas themed and not, that I didn't know about. Here's a beautiful tune about having a grandpa as a kid. The original title is "Ein farfar i livet".
Musicians:
Helene Misund – vocals, percussion
Hans Bollandsås – guitar, vocals
Andreas Hellkvist – Hammond B3
More info
https://andreashellkvist.com
Support me on Patreon!
https://www.patreon.com/andreashellkvist
Sign up for the newsletter
http://eepurl.com/hkQ6I1
Follow me here:
https://youtube.com/andreashellkvist
https://facebook.com/andreashellkvistmusic
https://instagram.com/feppe
Tweets by andreashellkvis
https://vk.com/andreashellkvist
#adventcalendar #hammondb3 #soul
Organ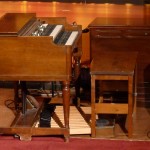 Hammond B3 -71