2019-06-18. Del 3. Ali Djeridi Hammond Trio, The JazzPool, Uppsala.
Del 3.
"Whistlin driver -A. Djeridi"
Ali Djeridi, trummor
Andreas Hellkvist, Hammondorgel
Anders Ekholm, tenorsax
Jazztrummisen och kompositören Ali Djeridi har under hela sin karriär spelat med de allra flesta svenska jazzmusiker ur toppskiktet, konstant eftertraktad för sin lyhördhet, sin precision och sitt sväng. Trots att Djeridi spelar i alla möjliga konstellationer så är den klassiska Hammond-trion en av de sammanhang han trivs bäst i, och har således länge samarbetat med upsaliensiske Hammond-organisten Andreas Hellkvist, en av de främsta klaviaturspelarna i vårt långa land, varmed han släppt hela fyra album på Do Music Records genom gruppen Trinity (där även trumpetaren Karl Olandersson ingår). Hellkvists solodebut "Finally" på Do Music Records gav publiken en smak av denne virtuosa musikers enorma kapacitet och mångfald, flyhänthet och gedigna fotarbete. Jazzmusikern Anders Ekholm har länge förgyllt landets scener med sitt bebopmarinerade saxspel och det ska bli ett nöje att höra honom med Ali Djeridis hårdkokta Hammond trio denna kväll. Vi får höra två set sprängfyllda med energigivande jazz av finaste märke!
The JazzPool – en ny fräsch live-scen för levande jazzmusik mitt i centrala Uppsala inuti Interpools vidsträckta och jazzdoftande lokaler. Uppsala-rotade smågrupper och storband inom jazz och jazzrelaterade genrer bjuder på konsert och/eller jam sessions varje tisdag. Det är fri entré men gäster förväntas lämna en orkesterslant på valfritt belopp (minimum 50 kr) för att stödja livemusiken! Swish eller kontant. Interpool står för en fin mat- och dryckesmeny att avnjuta musiken till. Konserttid i två set mellan 19.00-21.00. Jamsession efter konserten. Jammande musiker ombedes ta med egna instrument förutom trummor och piano. Dörrarna öppnar kl 18.00. The JazzPool är ett samarrangemang mellan Interpool och Do Music Records. Ljud sponsrat av Wharfedale Pro och Jan Algander.
Project links
Musicians
Organ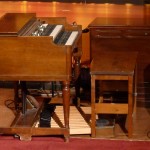 Hammond B3 -71