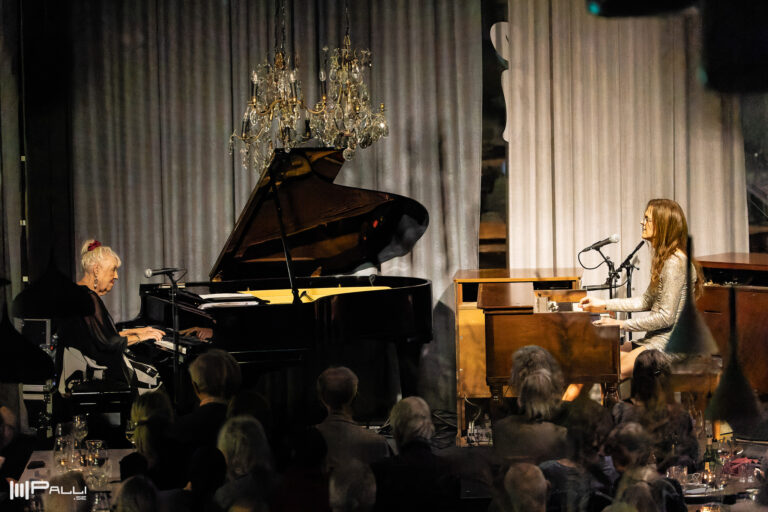 Missionskyrkan, Vetlanda
November 23, 2023, 7:00 pm
En konsert, en upplevelse och ett lättsamt möte mellan två fantastiska musiker vid varsin klaviatur. Andreas Hellkvist med sin finaste Hammondorgel och Monica Dominique som tar plats vid flygeln. Ett de luxe-paket kan man lugnt säga. Vi får höra både pärlor ur Monicas och Andreas repertoar. Det blir jazzstandards, visor och kanske till och med någon schlager. Ett möte både i och utanför musiken.
Monica Dominique är en uppskattad jazzpianist, kompositör, arrangör och kapellmästare , utbildad på Musikhögskolan i Stockholm. Tillsammans med maken Carl-Axel Dominique ger hon ofta konserter för fyrhändigt piano med en blandning av klassiskt och improviserat. Hon var medgrundare till allmusikgruppen Solar Plexus 1969, där hennes sväng på hammondorgel blev ett av gruppens främsta kännetecken. Hon ingick också en period i sånggruppen Gals and Pals och har även samarbetat med bl.a. Monica Zetterlund, Carla Bley, Hasse & Tage och Povel Ramel. Hon har komponerat film- och teatermusik, körverk, storbandssviter och en mängd sånger. En av hennes mest framförda är "Tillägnan" som komponerades till hennes trio-LP från 1980 med brodern Palle Danielsson på bas och Leroy Lowe på trummor. Monica invaldes 2016 i Swedish Music Hall of Fame.
Virtuost, lekfullt och med inlevelse – det finns många sätt att beskriva Andreas Hellkvist vid sin Hammondorgel. Han har utvecklat en stil som väcker häpnad och beundran, både hos publik, kollegor och recensenter. Oavsett sammanhang så är det få som går oberörda från en konsert. Här möter vi honom i ett mer intim sättning där han och orgeln får fullt spelrum.
Lineup
Monica Dominique – piano
Andreas Hellkvist – Hammond
Tickets
Venue
Missionskyrkan, Vetlanda
Vetlanda
To venue
Organ