Hammond Advent Calendar, Dec 23th – Amazing grace
Welcome to episode 23 of the Hellkvist Hammond advent calendar!
In January of this year I did a fun concert with a church organist on St Göran's chruch in Stockholm. I brought my B3 as you can see, and we took turns playing tunes on our respective instruments.
The concert started with us both doing Amazing grace. I have no footage of the church organ so you'll just see the Hammond part and a snippet of the transition.
Musicians:
Andreas Hellkvist – Hammond B3
More info
https://andreashellkvist.com
Support me on Patreon!
https://www.patreon.com/andreashellkvist
Sign up for the newsletter
http://eepurl.com/hkQ6I1
Follow me here:
https://youtube.com/andreashellkvist
https://facebook.com/andreashellkvistmusic
https://instagram.com/feppe
Tweets by andreashellkvis
https://vk.com/andreashellkvist
#adventcalendar #hammondb3 #church
Musicians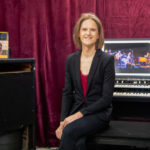 Andreas Hellkvist