Arnesen-Hellkvist Experience – Nite Club (Tribal Tech cover)
One of my favorite songs ever is "Nite club" by Tribal Tech. I've been listening to it a lot over the years but never actually played it. When I presented it to Thomas Arnesen we agrees that we have to give it a try. So, here it is, a recording from a rehearsal a few weeks ago. Fun challenge for the organ bass. Enjoy!
Arnesen-Hellkvist Experience playing Nite Club by Tribal Tech. Recorded with a stereo microphone, slightly mastered.
Thomas Arnesen – guitar
Andreas Hellkvist – Hammond B3
Daniel Olsson – drums
More about the trio:
#andreashellkvist
#hammondb3
Project links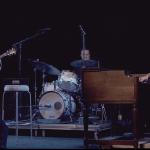 Arnesen-Hellkvist Experience