It's been a great year, and I'd like to take a moment to look back, but also to share my plans and hopes for 2014, which I think will be an ever better year!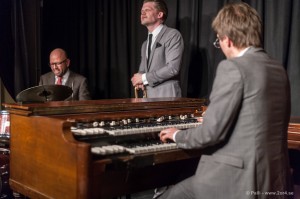 We've been playing a lot with Trinity. This trio is really an organism in itself. There is no group that I have played that has been so fun, challenging and stimulating. We will jump start 2014 by recording our 3rd album and then it's off to tours all over Sweden. Really looking forward to that!
I've added a "Gigs" tab where I try to document each gig in some way, with photos, videos and press material.
http://andreashellkvist.com/?cat=8
Check it out once in a while to keep up!
One of the clips on my youtube channel is really starting to take off. I promise to do more of this in 2014! In case you missed it, here it is:
I also have to mention 2 more odd (at least for me) projects this year that has been really fun:
1 – Playing organ at basketball and floorball games.
2 – Doing Elvis songs in Russian
So that was this year, and now to the next:
For more than year I've planning to release a record in my own name. The project has taken a lot longer than I had thought but it will get done in 2014! There are so many songs of mine that hasn't been recorded and released yet.
Trinity, Arnesen Bluesband and other bands will be working as usual of course but I'm also looking forward to working more with some new projects, Boheme for example (http://andreashellkvist.com/?page_id=452). I also intend to post more regularly on my youtube channel.
I also hope to come abroad and play more. A few tours is already being planned. I sincerely hope I can make a tour in the US.
Finally, I'd just like express my deepest gratitude for all love and support from all of you. Have yourself a merry little Christmas and see you in 2014!