Last week I went on a short tour to the south of Sweden with Arnesen Bluesband and Claes Janson. This band is really one of the "cornerstones" of my musical life and we always have a blast playing together. Saturday night in Karlshamn was no exception and maybe even more to that. I put out a little clip from my solo on "Got my mojo working that a think captures the mood of the night.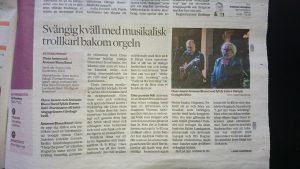 The review in the local paper was also very nice, with the headline "A swinging night with a musical wizard at the organ".
Anyway, hope to see you at some gig soon!