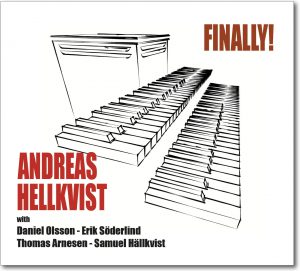 I'm currently looking forward to one of most exciting months ever!
First of all, my album will be released! It was sent to print last week. How I have waited for this moment! It was also named accordingly: Finally! I'll post a picture of the cover here. The album will also include a 16 page booklet. I will post some samples of the music later. It's mostly my own songs, and three different guitar players are featured on three songs each. They are: Erik Söderlind, Samuel Hällkvist and Thomas Arnesen.
Since the release will coincide with my 40th birthday I decided to make a combined release ad birthday concert. I already have a feeling it will be a memorable night! There'll be three bands playing (I'll be playing in all of them): First up is Trinity. Then a new project with Micke Skoglund (pi), Jocke Ekberg (dr) and Claes Janson (voc) and we will do a tribute to Kjell Öhman. The night ends with the whole ensemble from the album playing it from beginning to end. Really looking forward!
And on May6-7th I'll be going to Norway to play in a newly started trio with norwegian guitarist and singer Hans Bollandsås. On the 7th we'll be playing at the Trondheim jazzfest.