Last week one of Sweden's, and IMHO one of the world's, greatest organ heroes, Kjell Öhman, passed away. Actually, he was so much more than an organ player – pianist (truly brilliant on both), arranger, band leader, studio musician (about 8000 recordings from what I've heard) and simply a legend. But, since I've listened to him mostly on the organ, that's what I'll write about here.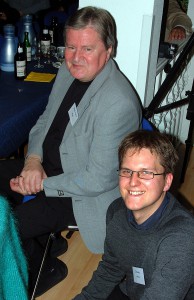 His record "Live at the pawn shop" was the first organ jazz record I ever bought, and his playing, the phrasing, timing, melody lines and block chords just blew me away and have continued to do so since then. He is truly one of my main influences and favorite players of jazz organ.
The picture to the right was taken at a dinner for organ enthusiasts I think in 2003. This was one of the first times I met him and I had just played his song "Feppe" for the people in the room. I felt quite nervous doing so, but he liked and gave me a pad on the shoulder afterwards. That's one of the moments I'll remember for a long time.
His most legendary organ jazz recording was made in 1968, when he was 25 years old, simply called "Kjell Öhman plays organ jazz". It has recently been issued digitally (see here) and for long remained a rarity on vinyl. I'm fortunate enough to have it on vinyl (and in two different editions), and it's the crown of my record collection. If you haven't heard it, check out this clip below where the whole record is played. My favorite song is "Feppe", starting at about 21 minutes in.
I'm know sure to what extent he is known outside Sweden. I know in some circles he is, but even in Sweden he is not as well known to the general public as he deserved. So these are just my humble words in remebrance of this great man. Thanks for all the music Kjell!