I got a woman – Claes Janson, Andreas Hellkvist (Hammond B3) and friends
Here's "I got a woman" from my anniversary concert on Tuesday, March 7th. It was the last song of the first set with almost all people involved on stage.
Such a joy having both a Hammond B3, and a Steinway grand piano on stage, as well as 3 horns.
Musicians:
Claes Janson – vocals
Andreas Hellkvist – Hammond B3
Leo Lindberg – piano
Erik Tengholm – trumpet
Tore Berglund – tenor sax
Ulf Johansson-Werre – trombone
Ola Bothzén – drums
More info
https://andreashellkvist.com
Support me on Patreon!
https://www.patreon.com/andreashellkvist
Sign up for the newsletter
http://eepurl.com/hkQ6I1
Follow me here:
https://youtube.com/andreashellkvist
https://facebook.com/andreashellkvistmusic
https://instagram.com/feppe
Tweets by andreashellkvis
https://vk.com/andreashellkvist
#hammondb3 #raycharles #claesjanson
Searching – I got a woman, Claes Janson, Ray Charles, Katalin, Ktvå, Hammond, Hammond B3, Hammond organ, grand piano, horns, horn section, trumpet, sax , tenor sax, trombone, drums, jazz, blues, rhythm n blues, leslie 122, leslie speaker
Organ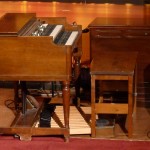 Hammond B3 -71