Andreas Hellkvist Hammond advent calendar, Dec 4th
Welcome to episode 4 of the Hellkvist Hammond advent calendar!
Earlier this year I idi an interview and recorded some songs with my good friend and pedal steel player Nicke Widén. The sound of the Hammond and pedal steel together is nothing but awesome! The recordings were made for an episode of "Guest at the HQ", and you can watch it here:

The episode ended with a version of us playing Oscar Peterson's "Hymn to freedom". The other songs this session were recorded also with drums, but this one we did without.
Thoght that might be a nice tune for this sunday, the second advent before Christmas.
Musicians:
Andreas Hellkvist – Hammond B3
Nicke Widén – Pedal Steel
More info
https://andreashellkvist.com
Support me on Patreon!
https://www.patreon.com/andreashellkvist
Sign up for the newsletter
http://eepurl.com/hkQ6I1
Follow me here:
https://youtube.com/andreashellkvist
https://facebook.com/andreashellkvistmusic
https://instagram.com/feppe
Tweets by andreashellkvis
https://vk.com/andreashellkvist
#adventcalendar #hammondb3 #pedalsteel #hymntofreedom
Musicians
Organ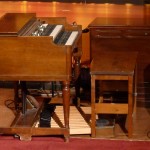 Hammond B3 -71