Hellkvist, Tengholm & Johansson-Werre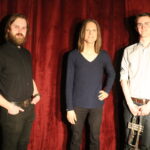 A trio formed during the Corona summer of 2020. Andreas, Erik and Oscar, all residents in the town of Uppsala, started jamming and rehearsing. Since Andreas already played the organ with another trio with a trumpet and drums they decided to go in a slightly different direction. Andreas had earlier in the spring experimented with combining the piano with organ pedals connected to a Moog Sirin synth that seemed perfect to use in this group.
Denna trio bildades under Coronasommaren 2020. Andreas, Erik och Oscar bor alla i Uppsala och de började ses för att repa och jamma. Ganska snart blev det tydligt att det fanns något att bygga på. Men eftersom Andreas redan spelar orgel med Trinity som också har trumpet och trummor så valde de en lite annan väg. Andreas Hade tidigare under våren experimenterat med att kombinera piano med orgelpedaler kopplade till en Moog Sirin synth och det visade sig passa perfekt för detta.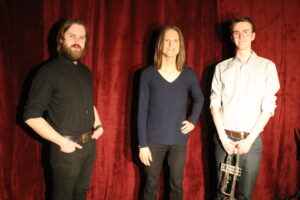 Hellkvist, Tengholm & Johansson-Werre
Andreas Hellkvist – Nord piano, Moog sirin bass pedals
Erik Tengholm – trumpet, flugelhorn
Oscar Johansson Werre – drums
Founded in 2020
Genres: Jazz
External links Upcoming gigs Past gigs