2023-01-14. Elvis Presley Birthday Party, Kent Wennman & Rockabilly kvartett, Katalin Uppsala.
2023-01-14. Elvis Presley Birthday Party – Katalin Uppsala.
OBS! VIDEOAXPLOCK (06:23 min. 11 låtar)
BANDET, Kent Wennman & Rockabilly Kvartet:
Kent Wennman, sång gitarr, Per Åke Persson, trummor, Stefan Persson, bas, Nicke Widén, steelguitar, Ulf Holmberg, gitarr
GÄSTARTISTER:
Jack Baymoore samt Matte Lagerwall (från The Boppers), Arvid Nerdal, piano och Andreas Hellvist, hammondorgel.
8 januari 2023 skulle Elvis Presley ha fyllt 87 år. Det vill vi på Katalin uppmärksamma med en storslagen hyllning. Av praktiska skäl gör vi det dock en vecka senare, 14 januari.
Showen kommer att gästas av två av landets riktiga tungviktare i rockabilly/Rock&Roll sammanhang, Jack Baymoore och Matte Lagerwall. Jack slog igenom internationellt med debutsingeln "A-V8 Boogie" 1996 och har sedan dess varit Sveriges mest framgångsrika rockabillyartist med regelbundna turnéer i USA och Europa. Matte Lagerwall får nog betecknas som en levande legend. Som frontman i The Boppers och gitarrist i Jerry Williams band har han en givet plats i den svenska rockhistorien.
Och vad faller sig mer naturligt än att än en gång låta Kent Wennman och hans formidabla musiker vara husband? Ni som varit med på tidigare års Elvis Birthday Partys förstår vad vi menar. Det svänger onödigt mycket! Och det blir ju inget riktigt födelsedagskalas utan Uppsalas mest passionerade Elviskännare kent Wennman. Kent har i 20 års tid hyllat Elvis och är mest känd för sin mycket populära föreställning "Elvis i Parksnäckan" men också för sina initierade radioprogram om Elvis i Sveriges Radio. På Katalin har han med sig sin extremt svängande och energiska kvartett. Och i andra avdelningen fylls kvartetten på med både piano och Hammondorgel. Räkna med tryck!
LJUDTEKNIKER:
Alexander.
ARRANGÖR:
Katalin And All That Jazz Östra Station, Candyrock Live & Loud och Kulturhjältarna.
VIDEO:
Schwalbeproduction.
Project links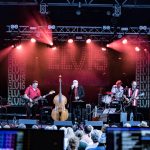 Kent Wennman Elvis tribute
Organ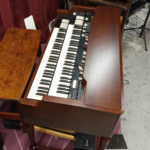 Hammond XK5 Classic