Hellkvist Hammond Hour, September 24th (Note the time, 6:30 pm CET)
This weekend I'll be travelling to my old hometown to attend a party on Saturday. Though, I didn't want to skip another week of streaming, so I decided to do the stream at the party! It fits well into the setting, by giving the event a great start. I'll be bringing my Hammond XK5.
So, I'm inviting you all to join the party with me! As usual, a wide array of grooves, moods and just good music. Come and join the fun!
Set list
0:00 Welcome
3:16 Theme from Starsky & Hutch
9:10 Get back
15:55 The Hellkvist Shuffle
21:00 The In Crowd
29:39 Hometown Glory
37:37 Limehouse blues
42:18 Crazy
48:06 Mercy, mercy, mercy
53:14 Intrduction of Pierre Swärd
58:43 Jam by Pierre Swärd
More info and webshop
https://andreashellkvist.com
https://andreashellkvist.com/shop
Support me on Patreon!
https://www.patreon.com/andreashellkvist
Sign up for the newsletter
http://eepurl.com/hkQ6I1
Follow me here:
https://facebook.com/andreashellkvistmusic
https://instagram.com/feppe
Tweets by andreashellkvis
https://vk.com/andreashellkvist
Tips appreciated but not required
Make a superchat och Youtube!
https://paypal.me/andreashellkvist
Swish: 070-9840244 (Sweden)
#livestream #hammondb3 #jazz #blues #funk
#hellkvisthq
Musicians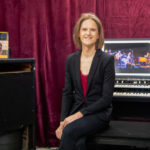 Andreas Hellkvist