Hellkvist Hammond Hour, May 28th – Party at the HQ!
As I will be on the road on Saturday 28th, this stream was prerecorded on May 25th. This happens to be the day before my birthday, so why not make it into a party?
I gathered some of my friends, we had some cake and bubbly and I did my set with everyone hanging around the organ. It was so nice! So come on in and join the party!
Set list:
0:00 Welcome
1:39 Let's get together
7:43 Memphis underground
12:39 Up, up annd away in my beautiful balloon
17:14 Bond street
21:07 If you want me to stay
26:00 Feppe
31:11 Morgonkaffe
37:05 Did you give the world some love today
41:44 Watermelon man
46:27 Chameleon
53:22 8 counts for Rita
58:43 Up and away
1:05:15 Rock candy
Support me on Patreon
https://www.patreon.com/andreashellkvist
Tips appreciated but not required
Make a superchat och Youtube!
https://paypal.me/andreashellkvist
Swish: 070-9840244 (Sweden)
#livestream #hammondb3
#hellkvisthq
Musicians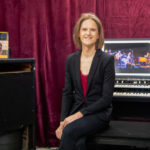 Andreas Hellkvist