Andreas Hellkvist video for Blues na Swiecie 2021
Last year I got a really exciting request from a colleague and friend in Poland – to make a video about myself and my music that were to be shown at the Polish blues festival Blues na Swiecie.
Here's what I put together. A little tour around the HQ were I play on the B3, Hammond XK5 and the Nord piano (with bass pedals).
It was shown at one of the stages in a park on the festival on Aug 28th 2021.
Enjoy!
Contents:
0:00 The Hellkvist Shuffle
5:12 Let's get together
11:18 At the XK5
12:02 Slow blues
15:09 Duffin Round
18:09 The sermon
21:29 At the Nord piano
23:30 The blues walk
25:54 Back at the B3
26:17 Freedom monologue
28:35 Hymn to freedom
#hammondb3 #hammondxk5 #blues #bluesnaswiecie #hellkvisthq
Musicians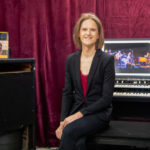 Andreas Hellkvist