Ack Värmeland du sköna (Swedish folk melody) – solo organ arrangment
Last week I was in the county of Värmland, partly for a gig but mainly to visit my aunt and other relatives on my mother's side. While there I was also working on an arrangement for the "anthem" of Värmland, "Ack Värmeland du sköna", a beautiful folk song celebrating this equally beautiful county. It is also actually the basis for the jazz standard "Dear old Stockholm".
I so wanted to record it while I was there and capture some of the surrondings. My aunt lives on my grandmother's old farm, far out on the countryside. There is hardly any cell phone reception and at several times during my stay I saw moose and deer out in the fields. Having spent many of my childhood summers here, it is almost sacred ground to me.
So I placed the organ where the lawn meets the meadow and the forest. In the beginning, 2 cranes flew by and gave a nice accompaniment to the song. I also like how the sun comes out in the end. I love to play out in the open! Hope you'll enjoy it. This is my homage to one of the most beautiful places I know.
Find me here as well:
https://andreashellkvist.com/
https://facebook.com/andreashellkvistmusic
https://instagram.com/feppe
Support me on Patreon!
https://www.patreon.com/andreashellkvist
#sweden #nature #folksong #värmland
#ackvärmelanddusköna #dearoldstockholm #nordc2d #nordkeyboards
Musicians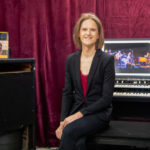 Andreas Hellkvist