4 leslies, one B3, some random music and space lighting
On Sep 10th I invited peoiple over to the HQ to check out my new experiment – to connect 4 leslies to my B3 with the organ in the middle. It's quite an experience to walk around in the room and hear how the sound from the cabinets interact and interfere with each other.
The cabinets are all different – 122, 147, 142 and 770 so they all have their own character.
Here I also turned off the light and just used some LED pucks. My friend Lennart went around filming as I played some random music. A lot fun!
More info and webshop
https://andreashellkvist.com
https://andreashellkvist.com/shop
Support me on Patreon!
https://www.patreon.com/andreashellkvist
Sign up for the newsletter
http://eepurl.com/hkQ6I1
Follow me here:
https://facebook.com/andreashellkvist…
https://instagram.com/feppe
Tweets by andreashellkvis
https://vk.com/andreashellkvist
#hammondb3 #hellkvisthq #soundexperiment #space
Musicians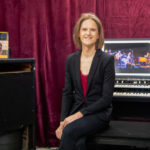 Andreas Hellkvist