Kiralina trio
Kiralina Salandy bjuder på en resa med jazz, soul, gospel och gränslandet däremellan. Formatet är lite mer avskalat och intimt, men för den skull inte mindre svängigt och medryckande. Med sig har hon Andreas Hellkvist (Hammond) och Jesper Kviberg (trummor).
Hammondorgeln ger en vacker och kraftfull inramning. Dels till musiken och soundet, men också till det visuella intrycket. Andreas är en av få som fortfarande släpar sin Hammond B3 till sina konserter. Orgeln och trummorna skapar ett lekfullt och svängigt komp till Kiralina, som med sin ömsom mjuka, ömsom kraftiga röst, sitt karismatiska och utåtriktade sätt att leda ensemblen får fullt spelrum. Denna trio är delvis en återgång till hennes rötter från uppväxten i Kanada. Att musiken ligger henne varmt om hjärtat går inte att ta miste på. Det blir passionerat, inlevelsefullt och genuint.
Andreas Hellkvist har i jazzkretsar oftast setts med Trinity och Arnesen Bluesband, och väcker stor fascination med sitt orgelspel. Dels med sin hängivenhet och spelglädje, dels sin virtousitet och simultanförmåga. Har får vi möta en lite ny sida av honom, men kärnan är densamma.
Jesper Kviberg behöver för de flesta i jazz-Sverige ingen närmare presentation, då han synts i otaliga sammanhang runtom på landets jazzscener. Han har jobbat Stacey Kent, Monica Borrfors, Bernt Rosengren Octet, Stockholm Jazz Trio och många fler. Det man kan vara säker på är att när han sitter bakom trummorna så svänger det. En hälsosam dos av spontanitet gör också att musiken och rytmerna får leva.
Här är ett sammandrag från en konsert sommaren 2018, på Etelhems krukmakeri på Gotland.
Bilder
Presentation in English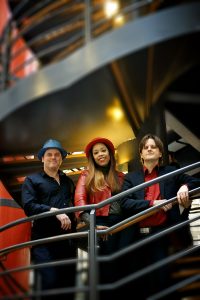 Kiralina Salandy – Vocals
Andreas Hellkvist – Hammond organ
Jesper Kviberg – drums
A trio that plays Gospel, Jazz and Standards. From Mahalia Jackson, Billy Holiday, Nina Simone, Frank Sinatra, and Sam Cooke to name a few.
They play the songs we all love with a little twist and fresh take. The Hammond organ, played by Andreas Hellkvist, is the main instrument. It gives a beautiful and powerful frame to the trio's sound, whether it be soulfully smooth or old school traditional. Combined the the exquisite drumming by Jesper Kviberg they provide the perfect foundation for Canadian vocalist Kiralina. With the church being her first concert stage, this is a way of returning to her gospel roots, guaranteed to deliver a passionate and heartful performance.
Here's a clip of Kiralina on TV4 Nyhetsmorgon, participating in the celebration of Martin Luther King day.