Kiralina, Andreas & Jesper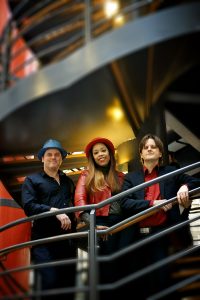 Kiralina Salandy – Sång
Andreas Hellkvist – Hammondorgel
Jesper Kviberg – trummor
Kiralina, Andreas & Jesper är en trio som spelar gospel, jazz och standards. Repertoaren hämtas huvudsakligen från Mahalia Jackson, Billy Holiday, Nina Simone, Frank Sinatra och Sam Cooke, för att nämna några. Låtarna är oftast de mer välkända och omtyckta, men framförs med lite nya grepp och fräschör.
Hammondorgeln, som spelas av Andreas Hellkvist, är huvudinstrumentet. Den ger vacker och kraftfull inramning. dels till musiken och soundet, men också till det visuella intrycket. Orgeln kan vara både souligt modern och mer traditionell. Tillsammans med Jesper Kvibergs lyhörda och svängiga trumspel lägger de en perfekt grund för trions sångerska Kiralina. Under uppväxten i Kanada var det i kyrkan som hon började uppträda, då med att sjunga gospel. I denna trio återvänder hon till sina rötter och att musiken ligger henne varmt om hjärtat går inte att ta miste på. Det blir passionerat, inlevelsefullt och genuint.
Här är ett klipp från TV4 Nyhetsmorgon där Kiralina medverkar i firandet av Martin Luther King-dagen.
Presentation in English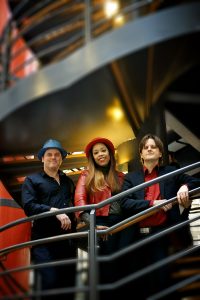 Kiralina Salandy – Vocals
Andreas Hellkvist – Hammond organ
Jesper Kviberg – drums
Kiralina, Andreas, and Jesper are a trio that plays Gospel, Jazz and Standards. From Mahalia Jackson, Billy Holiday, Nina Simone, Frank Sinatra, and Sam Cooke to name a few.
They play the songs we all love with a little twist and fresh take. The Hammond organ, played by Andreas Hellkvist, is the main instrument. It gives a beautiful and powerful frame to the trio's sound, whether it be soulfully smooth or old school traditional. Combined the the exquisite drumming by Jesper Kviberg they provide the perfect foundation for Canadian vocalist Kiralina. With the church being her first concert stage, this is a way of returning to her gospel roots, guaranteed to deliver a passionate and heartful performance.
Here's a clip of Kiralina on TV4 Nyhetsmorgon, participating in the celebration of Martin Luther King day.