Tomorrow I'll be leaving for Iceland for a small tour with Daniel Olsson and Samuel Hällkvist. There'll be five dates starting in the northern parts and ending in Reykjvik. You can see the tour schdule in the calendar to the right. Hope we'll be able to see some of the beautiful nature there as well. Really looking forward!
Here's a link to a presentation of the trio. Below a video from the release concert of Finally!
And so, the record is finally out! Here's a compilation of the music:

If you live in Sweden, and certain parts of Europe you can buy it from Plugged records, my distributor.
It's also available at cdbaby:

I'll put up some samples soon.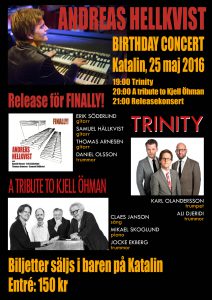 Today I received the shipment of newly pressed CD:s. Quite a feeling to finally hold in your hand what you have worked with for so long. The official release is May 27th, the release concert May 25th.
Here's two pictures, one of the record cover and booklet posing on my B3, and the other one the poster for the release concert.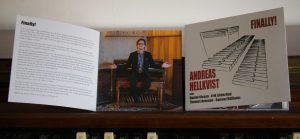 Here's the presentation of the concert on Katalin's web page
katalin.com
Here's the link to the facebook event
facebook.com/events/1594751514172913/1595108820803849/
Also, this weekend I'll be going to Trondheim, Norway to play with a new trio featuring singer and guitar player Hans Bollandsås. Really looking forward to that!
http://jazzfest.no/event/hans-bollandsas-m-andreas-hellkvist-vetle-larsen/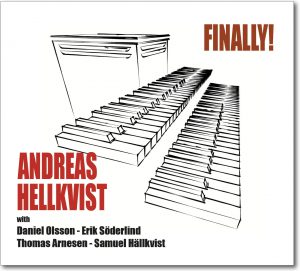 I'm currently looking forward to one of most exciting months ever!
First of all, my album will be released! It was sent to print last week. How I have waited for this moment! It was also named accordingly: Finally! I'll post a picture of the cover here. The album will also include a 16 page booklet. I will post some samples of the music later. It's mostly my own songs, and three different guitar players are featured on three songs each. They are: Erik Söderlind, Samuel Hällkvist and Thomas Arnesen.
Since the release will coincide with my 40th birthday I decided to make a combined release ad birthday concert. I already have a feeling it will be a memorable night! There'll be three bands playing (I'll be playing in all of them): First up is Trinity. Then a new project with Micke Skoglund (pi), Jocke Ekberg (dr) and Claes Janson (voc) and we will do a tribute to Kjell Öhman. The night ends with the whole ensemble from the album playing it from beginning to end. Really looking forward!
And on May6-7th I'll be going to Norway to play in a newly started trio with norwegian guitarist and singer Hans Bollandsås. On the 7th we'll be playing at the Trondheim jazzfest.
2015 passed quicker than I thought. It has been a special year for me. Spent a lot of time just practising and "woodshedding" and working on getting my album finished. I was hoping to get it out during autumn, but the mixing took longer than I expected. Now, however, I'm in the final stages of the production, and soon you'll hear more about it. I'm really excited about the whole thing!
Thaat's all for now. I'll be back soon…
Last week one of Sweden's, and IMHO one of the world's, greatest organ heroes, Kjell Öhman, passed away. Actually, he was so much more than an organ player – pianist (truly brilliant on both), arranger, band leader, studio musician (about 8000 recordings from what I've heard) and simply a legend. But, since I've listened to him mostly on the organ, that's what I'll write about here.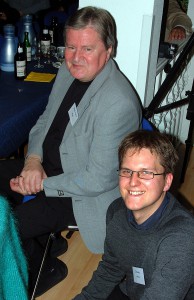 His record "Live at the pawn shop" was the first organ jazz record I ever bought, and his playing, the phrasing, timing, melody lines and block chords just blew me away and have continued to do so since then. He is truly one of my main influences and favorite players of jazz organ.
The picture to the right was taken at a dinner for organ enthusiasts I think in 2003. This was one of the first times I met him and I had just played his song "Feppe" for the people in the room. I felt quite nervous doing so, but he liked and gave me a pad on the shoulder afterwards. That's one of the moments I'll remember for a long time.
His most legendary organ jazz recording was made in 1968, when he was 25 years old, simply called "Kjell Öhman plays organ jazz". It has recently been issued digitally (see here) and for long remained a rarity on vinyl. I'm fortunate enough to have it on vinyl (and in two different editions), and it's the crown of my record collection. If you haven't heard it, check out this clip below where the whole record is played. My favorite song is "Feppe", starting at about 21 minutes in.
I'm know sure to what extent he is known outside Sweden. I know in some circles he is, but even in Sweden he is not as well known to the general public as he deserved. So these are just my humble words in remebrance of this great man. Thanks for all the music Kjell!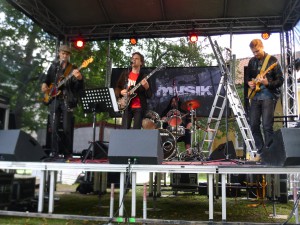 One of my favorite nights in Uppsala is "Kulturnatten" (Culture night), always on the second Saturday of September. Music, art, dance and other forms of culture all day, all around town.  As a musician you're often engaged in various concerts though the day and it's also a great opportunity to try out new things.
This year I played three concerts: Started out in the afternoon with the premiere gig of ШУМ, a "mostly-for-fun" band where I play the guitar and sing and we only play russian rock music.
In the evening "Apan & Grisen" played at Katalin's Jazz bar. For me, this was the highlight of the evening. Here's a clip from the concert, my song "Jesus".
The night ended at restaurant Lingon where a I played with GBB. All in all, a great cultural night!
Last week I did two concerts with Joel Svensson Trio and Krister Andersson. Most of it was filmed and some ended up on youtube and facebook. Check it out!
From last thursday:

More videos on https://www.youtube.com/channel/UCy5mvq_hsd4p7sdukBFfc6Q
Organ solo on Fried Pies from Sunday:
Been working some with Apan & Grisen (me and Daniel Olsson) lately. We went on a mini tour to Estonia, playing in Tallinn and Tartu. Great fun! We now have a facebook page. Below are some videoclips from the tour. Check them out and do "like" the page as well!
First up, my own song "Headin' Downtown"

and then a version of the Flintstones theme

Looked at some video footage from Trinity's spring tour and found some really good stuff! A few videos has been put on Trinity's youtube. Here they are. Enjoy!

Here's Misty

and Just friends