About a year ago, guitarist Thomas Arnesen and singer Claes Janson decided to do a BB King tribute called King Of The Blues. We spent a day in April rehearsing in my studio and recorded some songs as well. Here's one of them, Every day I have the blues. Enjoy!
On Friday Oct 14th we crammed ourselves into the new cozy place of Hijazz, Uppsala. Here's a video from that night. Enjoy!

The finishing song of my release concert in May was 8 minutes I will never forget! I asked all of the guitar players on the record to join me on stage for Old Gal Blues, and here's how it went. Enjoy!

This song is based on the clip "Old Gal 57 Hammond C3 with 122 Leslie Groove", posted at the Swedish Hammond youtube channel in 2008. The theme for "Old Gal Blues" is simply a transcription of this original clip". Watch it here:
https://www.youtube.com/watch?v=3RS2LTKq9ss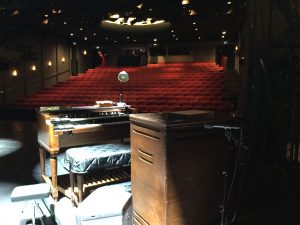 During this fall I'll be playing the Hammond organ at the Royal Dramatic Theatre i Stockholm! In this production of the Bergman play "Den goda viljan (The best Intentions)", the Hammond B3 is placed on the stage and add a jazzy touch to the otherwise quite minimalistic setup of the play. The play also features some of Sweden's finest actors so it's really an honour to be a part of it.
Read more here:
www.dramaten.se/Repertoar/Den-goda-viljan/
And come check it out!!
Just put up a youtube clip from the Iceland tour. This one is from Kex Hostel in Reykjavik. Enjoy!
Tomorrow I'll be leaving for Iceland for a small tour with Daniel Olsson and Samuel Hällkvist. There'll be five dates starting in the northern parts and ending in Reykjvik. You can see the tour schdule in the calendar to the right. Hope we'll be able to see some of the beautiful nature there as well. Really looking forward!
Here's a link to a presentation of the trio. Below a video from the release concert of Finally!
And so, the record is finally out! Here's a compilation of the music:

If you live in Sweden, and certain parts of Europe you can buy it from Plugged records, my distributor.
It's also available at cdbaby:

I'll put up some samples soon.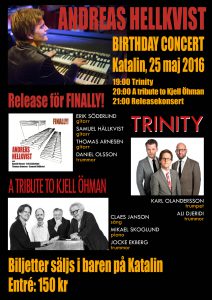 Today I received the shipment of newly pressed CD:s. Quite a feeling to finally hold in your hand what you have worked with for so long. The official release is May 27th, the release concert May 25th.
Here's two pictures, one of the record cover and booklet posing on my B3, and the other one the poster for the release concert.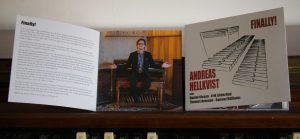 Here's the presentation of the concert on Katalin's web page
katalin.com
Here's the link to the facebook event
facebook.com/events/1594751514172913/1595108820803849/
Also, this weekend I'll be going to Trondheim, Norway to play with a new trio featuring singer and guitar player Hans Bollandsås. Really looking forward to that!
http://jazzfest.no/event/hans-bollandsas-m-andreas-hellkvist-vetle-larsen/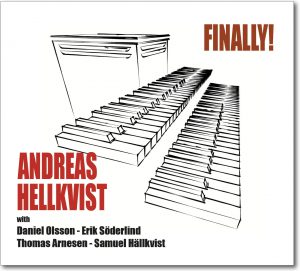 I'm currently looking forward to one of most exciting months ever!
First of all, my album will be released! It was sent to print last week. How I have waited for this moment! It was also named accordingly: Finally! I'll post a picture of the cover here. The album will also include a 16 page booklet. I will post some samples of the music later. It's mostly my own songs, and three different guitar players are featured on three songs each. They are: Erik Söderlind, Samuel Hällkvist and Thomas Arnesen.
Since the release will coincide with my 40th birthday I decided to make a combined release ad birthday concert. I already have a feeling it will be a memorable night! There'll be three bands playing (I'll be playing in all of them): First up is Trinity. Then a new project with Micke Skoglund (pi), Jocke Ekberg (dr) and Claes Janson (voc) and we will do a tribute to Kjell Öhman. The night ends with the whole ensemble from the album playing it from beginning to end. Really looking forward!
And on May6-7th I'll be going to Norway to play in a newly started trio with norwegian guitarist and singer Hans Bollandsås. On the 7th we'll be playing at the Trondheim jazzfest.