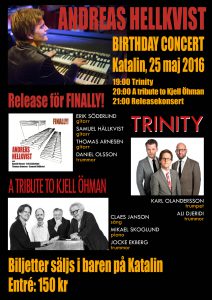 Födelsedagskonsert och skivrelease
Tiden går alltid fortare än man tror och snart är det dags att fylla 40 och samtidigt släppa min första skiva i eget namn. Det har varit en lång resa och det är så otroligt kul att äntligen kunna presentera denna skiva, med låtar från de senaste 20 åren. Ni som har varit med från början av karriären kommer att känna igen gamla hits som Morgonkaffe och The Hellkvist Shuffle men det finns också många nya fina låtar med. Tre av mina favoritgitarrister (Erik Söderlind, Samuel Hällkvist och Thomas Arnesen) gästar skivan på tre låtar var.
Har funderat mycket på hur detta ska firas och under vilka former. Sedan några år tillbaka har tanken om att göra en stor födelsedagskonsert och det kommer nu att bli av!
Evenemanget går av stapeln Onsdag den 25 maj på Katalin i Uppsala. Tre band kommer att spela under kvällen. Jag ingår i alla tre, och övriga musikanter finns listade nedan. Det känns nästan overkligt att kunna presentera en sådan line-up!
Programmet är följande:
19.00 Trinity (med Karl Olandersson – trp, Ali Djeridi – tr)
20.00 A tribute to Kjell Öhman (med Claes Janson – voc, Mikael Skoglund – pi, Jocke Ekberg – tr)
21.00 Releasekonsert för Finally! (med Erik Söderlind – git, Samuel Hällkvist – git, Thomas Arnesen – git, Daniel Olsson – tr)
Läs mer om konserten och de olika banden på Katalins hemsida,
http://www.katalin.com/
eller på facebook
https://www.facebook.com/events/1594751514172913/
Från kl 18 blir det lite tårta (först till kvarn!) och mingel och efter sista konserten som slutar ca 22 blir det efterhäng för de som kan och orkar.
Observera att det är en helt öppen tillställning där alla är välkomna. Om ni vet andra som skulle kunna vara intresserade, sprid gärna ordet!
Entré kostar 150 kr och köps i baren på Katalin. Jag vill inte ha några presenter ifall ni skulle fundera på det.
Hoppas vi ses!