BIO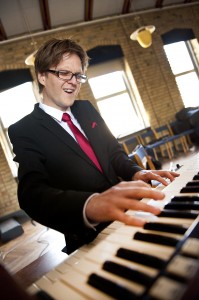 It all started on a winter's night in 1995. I had recently started playing jazz on he piano and a friend brought me to an organ trio concert. It was the first time I'd heard a B3 live. It really blew me away! From that day I knew I had to start playing the organ. Since then I've been playing the organ quite exclusively. Of course there's some occasional piano gig but I try to play as much organ as possible. Simply because that's what gives me the most kicks!
I was raised in the town of Borlänge, Sweden, a town that has produced some of the finest organ players in Sweden. With that in mind it's funny that it took 18 years before I discovered the instrument. Most of the things I play are jazz and blues oriented.
Nowadays I live in Uppsala.  Hope to see you at some gig!
Andreas
Bands
Most of the bands I play regularly with are presented on the site. I'll try to keep the calendar updated at all times.
Education
Interested in taking lessons? Drop me a line and we can figure something out. I don't teach on a regular basis but really enjoy meeting new organ players and helping them in the way I can.
I also do clinics and workshops.
Studio
If you need Hammond on a recording you are very welcome to contact me!