Apan & Grisen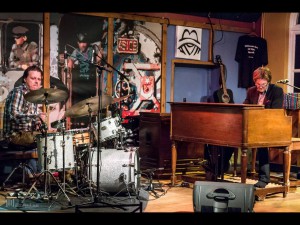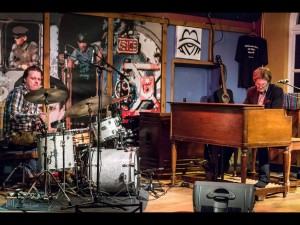 Andreas Hellkvist – organ
Daniel Olsson – drums
The Hammond organ and the drums. Two instruments that, when combined, provides almost unlimited possibilities to create various kinds of music. Rooted in jazz, Andreas Hellkvist and Daniel Olsson explore these possibilities, ranging from the wild and furious to the tender and sensitive, from swinging jazz to folkloristic tones and funky beats.
Andreas is the perfect organ player in this setting. With an outstanding technique, soulful playing and exceptional footwork on the pedals he makes the organ fill the room and create sounds, grooves and interesting melodies. Some of his youtube clips have hundreds of thousands of views and people all over the world has marvelled at his way of playing the organ.
Daniel Olsson at the drums gives the duo another dimension, being a relentless groove machine, perceptive accompanist and a brilliant soloist, all mixed up with a slice of insanity. They fit together perfectly, both with a musicianship full of passion, spontaneity and versatility.
Andreas Hellkvist and Daniel Olsson has been playing together for a number of years in different settings. In 2014, during some recordings of Andreas' music, this duo project was born. The repertoire consists mainly of Andreas' songs, although mixed with jazz standards and other songs.
Apan & Grisen (Monkey and the pig) is the name of the duo. Who's who? They won't tell…
Do check out our facebook page!

We also have a youtube channel:
https://www.youtube.com/channel/UC9Z0d9qQD3fNvRyaP4XewjQ
Below are some samples. Enjoy!
First up, "Headin' Downtown" (Hellkvist)

"Danslåten (Dancing song)" (Hellkvist)

"Up And Away" (Hellkvist)
"Jesus" (Hellkvist)

Compilation from a gig on Feb 5th, 2015 in Uppsala

Compilation from a gig on Jan 14th, 2015 in Tallinn.

"The Hellkvist Shuffle" (Hellkvist)

"Morgonkaffe" (Hellkvist)

"Snowflakes" (Hellkvist)

"Piecewise Continuity" (Hellkvist)